Call for photos
We need more pictures of the 2021 reunion photos. Indeed, we need photos from all reunions and service in all eras. Please see"Archives/Submitting Photos for Galleries" for how and to whom to send them.
Group photo prior to boarding for river cruise
Group picture prior to boarding for river cruise at 2021 reunion in NOLA. We counted 12 in the front row and called all of the others "second row," even though it is a bit ragged. (Looks like this bunch never heard of "dress right.") Please leave a comment if you think any of the names in the table below are incorrect or if you can fill in one or more of the missing ones.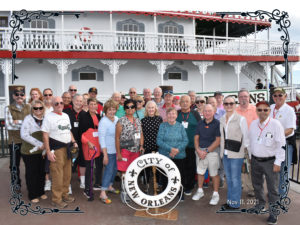 1-1
Teha Hatfield
1-2
?-man white tee shirt,
1-3
Dick Upshaw
1-4
Donna Upshaw
1-5
Marquetta Tubesing
1-6
Marie Lyman
1-7
Judy Nelson
1-8
Bonnie Sellers
1-9
Trevor Sellers
1-10
Gary Kerr
1-11
Claire Benckenstein
1-12
Lowell Lyman

2-1
Joe
Nocross
2-2
Paula Rath
2-3
Neal Perdue
2-4
Sam Rath
2-5
Mark Patton
2-6
Vicki Fuller
2-7
Dewey Fuller
2-8
Gordo Tubesing
2-9
Bill Moore
2-10
John Long
2-11
Marilyn Moore
2-12
Steve Benckenstein
2-13
Ralph Nelson
2-14
Bob Basye
2-15
Gary Rogers
2-16
Don Duszynski
2-17
Mary Long
2-18
?-Man blue shirt
2-19
George Mitchell
2-20
Battle Wagstaff
2-21
Richard Baldwin
Business meeting
Hospitality room
Banquet
World War II Museum