RTB Major General Gregory A. Corliss
Major General Gregory A. Corliss, Sr., commanded HMM-265 as a major in 1965, retired from the Marine Corps on July 1, 1985, and Returned to Base on December 23, 2015.
General Corliss was born on April 14, 1930, in Bellefontaine, Ohio. He graduated from Whitman College, Walla Walla, Washington, in 1952 with a B.A. degree in History. He also held an M.A. degree in History from the University of Hawaii (1971), and an M.A. degree in Public Administration from Auburn University in Albany (1972).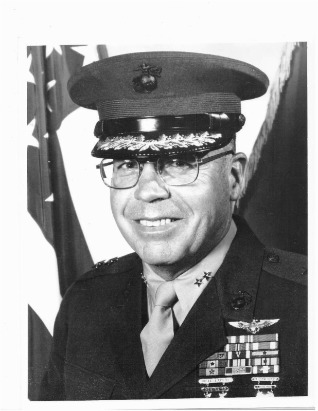 Entering the Marine Corps in July 1952, he attended the Officers Candidate School, Quantico, VA, and was commissioned a Marine second lieutenant in September 1952. After completing basic school, he was assigned to flight training and was designated a Naval Aviator in 1954. He was promoted to first lieutenant that same year. He was later assiqned to VMA-333, 3d Marine Aircraft Wing, flying the AD-5 Sky Raider.
Ordered to Korea in October 1955, he served with the 1st Marine Aircraft Wing as a group operations officer and flight officer with VMA-251. He was promoted to captain in May 1956, while in Korea.
Returning to Quantico in December 1956, he served in a variety of staff billets at the Marine Corps Air Station, there, and was also a member of the bombing demonstration team, Aircraft Engineering Squadron-12, flying AD-6s until August 1959.
Assigned to the 2d Marine Aircraft Wing, Marine Corps Air Station, Beaufort, S.C., he joined VMA-331, the Marine Corps' first A-4 squadron. In 1961 to 1962, he attended the Amphibious Warfare School, Quantico. He was next assigned to Camp Pendleton, Calif., as air liaison officer with the 3d Battalion, 5th Marines. During this assignment, he saw deployment in connection with the Cuban Crisis in 1962 and a subsequent battalion transplacement tour in WestPac. He was promoted to major in July 1963.
In January 1964, he transitioned into helicopters at Marine Corps Air Station, New River, N.C., and deployed to the Mediterranean in May as the Commanding Officer of a nine-aircraft UH-34 detachment in support of BLT 2/6. Returning to New River, he served as Executive Officer, and later, Commanding Officer of the Marine Corps' first CH-46 squadron, HMM-265, which he commanded on a Caribbean cruise in the spring of 1965.
He was next assigned as the Assistant S-4 of Marine Aircraft Group 26. As Executive Officer of HMM-262, he deployed to Vietnam in December 1966, and became Commanding Officer of the squadron the following May. While in Vietnam, he participated in more than 36 operations against communist insurgents.
In January 1963, he joined the staff of Fleet Marine Force, Pacific, in Hawaii as G-3 Air Operations Officer. A highlight of the Hawaii tour was the opportunity to fly in the filming of TORA, TORA, TORA.
From June 1971 to July 1972, he was a student at the Air War College, Maxwell Air Force Base, Ala. Ordered overseas in August 1972, he joined the 1st Marine Aircraft Wing at Iwakuni, Japan, as Assistant G-4. He returned to Headquarters, Marine Corps Washington, D.C., in September 1973 and was initially assigned as Head of the Joint Aviations Matters Branch in the Division of Aviation, and later became the Aviation Colonels' Monitor in the Manpower Division. He was promoted to colonel in July 1974.
Transferred to Marine Corps Air Station, El Toro, Calif., in July 1976, he assumed duties as Commanding Officer of Marine Aircraft Group 16, and later Chief of Staff of the 3d Marine Aircraft Wing in August 1977. While serving in this capacity, he was selected in February 1978 for promotion to brigadier general. He was advanced to that rank on May 2, 1978 and assumed duty as Assistant Wing Commander, 2d Marine Aircraft Wing at Cherry Point, in June 1978. From Oct. 19, 1978 until Oct. 22, 1979. General Corliss was assigned additional duty as Commanding General, 4th Marine Amphibious Brigade. In January 1980, he was assigned duty as Commander, Marine Corps Air Bases, Eastern Area/Commanding General, Marine Corps Air Station, Cherry Point. He was advanced to major general on March 30, 1981, and was assigned as Commanding General, 4th Marine Aircraft Wing, New Orleans, La., on June 4, 1981. On June 8, 1983, he was assigned duty as the Director of Plans Division/Assistant Deputy Chief of Staff for Plans, Policies and Operations, Headquarters Marine Corps. He served in this capacity until his retirement on July 1, 1985.
General Corliss' medals and decorations include the Silver Star, Legion of Merit, Distinguished Flying Cross, 27 Strike/Flight Air Medals, Navy Commendation Medal with Combat "V", Presidential Unit Citation, and the Vietnam Cross of Gallantry with Silver Star.
The marriage of Pearl L. Perkins and Gregory A. Corliss was celebrated Aug. 18 at Trinity Church Shepherdstown and officiated by the Rev. G.T. Schramm. A reception followed at the beautiful Smithfield Farm, hosted by the Prichard family. Pearl is a longtime resident of Jefferson and a retired nurse. Greg was also a longtime resident, a former county commissioner and a retired Marine.
Here are some links related to General Corliss, his career, and his passing.