Harry Robert "Bob" Mills, 84, returned to base on October 3, 2021, at home in Pensacola, Florida, in the presence of his wife and family. "Harry Bob" was a pilot and went with HMM-265 to Vietnam aboard USS Boxer in April, 1966, having already completed a tour there in UH-34s. He served the HMM/VMM-265 Veterans Association as a member of the Board of Directors. He died from pulmonary fibrosis scleroderma caused by exposure to Agent Orange.
Bob was born on December 13, 1936, to Leo W. Mills and Datha Marker Mills in Yates Center, Kansas. He was preceded in death by his parents and his older brother William Jack Mills. He is survived by his wife Twila Windham Mills, sister-in-law Lee Mills, and her sons Jack Mills and Scott Mills, as well as his brothers-in-law Travis Windham, Oliver Windham, and Michael Windham, their spouses, and many nieces and nephews of the Mills, Windham, and Hartigan families. He is also survived by cousins Dennis Marker and Jim Marker of Yates Center and many close military, hometown, and church friends.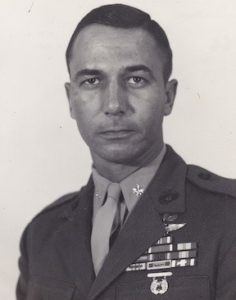 Bob was a graduate of Yates Center High School, Class of 1954, and attended the University of Kansas and the United States Air Force Academy before entering the United States Marine Corps. He was commissioned as a Marine Corps officer and pilot and received his wings of gold in October of 1961. He served two tours in Viet Nam. He was proud to have served his country, 2 years in the Kansas National Guard and 20 years in the Marine Corps, retiring in 1981. He retained lifetime memberships in the Veterans of Foreign Wars, the American Legion, and numerous Marine Corps associations.
While stationed in Pensacola, Florida, Bob met "the true love of his life," Twila Windham. They were married in 1968 and were together for 53 years. After retirement Bob received a Bachelor's Degree in Journalism from the University of West Florida and attended the Pensacola Police Academy, graduating with honors. He then was a flight simulator instructor for ten years at Whiting Naval Air Station, Milton, Florida.
Memorial Service will take place at 12:30 pm on Monday, October 18, 2021 at Oak Lawn Funeral Home. Inurnment will take place at Barrancas National Cemetery-NAS Pensacola with full military honors at 1:30 pm. A Reception will immediately follow back at the funeral home. The family will also have a service at Yates Center Cemetery in Yates Center, Kansas at a later date.
In lieu of flowers, please make a donation to the American Legion Post 13, Town Square, Yates Center, Kansas 66783 or Yates Center Alumni Association, c/o Margaret Harrod, 1256 60th Road, Yates Center, Kansas 66783.
[Obituary from Oak Lawn Funerals]
Remembrances
Remembering Bob Mills, by Chuck Johnson