RTB Emmitt Eugene "Fat Jack" Exum
Jack Exum of Scottsdale, Arizona passed away after a long illness on March 13, 2012 at the age of 70, surrounded by his loving family. Born in Jackson, Tennessee on February 13, 1942, Jack attended the University of Tennessee. He was a Captain in the United States Marine Corps and flew the Boeing CH-46 Sea Knight helicopter with HMM-265 in Vietnam, completing over 200 missions in 1966 and 1967. He was awarded an Air Medal and a Distinguished Flying Cross for meritorious service.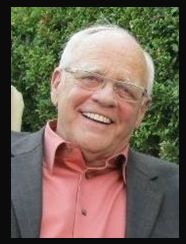 Jack became a pilot for Trans World Airlines in 1968 and flew Boeing 707 and 727 aircraft both domestically and internationally for 18 years. He ultimately became a broker for his company, Exum Associates Ltd Real Estate Investments in Scottsdale and the former owner of the town of Rock Springs, Arizona. Jack is survived by his loving wife of 44 years, Susan, his two children Eric Paul Exum (Marnie), and Nancy Kathryn Hollinger (Nathan), and three beautiful grandchildren, Alexander, Emily, and Isabel. Also survived by two sisters Gena Suzanne and Alice Lanier.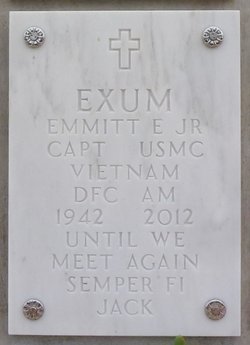 "This man could enter a room and fill it with laughter. His smile made you smile. He embraced his family and life with such joy it inspired those who witnessed it." Jack Exum will be dearly missed by all who knew and loved him. Please join us in a celebration of Jack's life. Memorial Services was held at 11:00A.M., Saturday, March 31st , in the chapel at Hansen Desert Hills Mortuary, 6500 E. Bell Rd., Scottsdale, Arizona 85254. In lieu of flowers donations may be made to: Disabled American Veterans, Attn. Gift Processing, P.O. Box 14301, Cincinnati, OH, 45250-0301. Please visit www.hansenmortuary.com to place online condolences. [Published in The Arizona Republic on March 25, 2012]