Remembering Bob Mills, by Chuck Johnson
Bob Mills embraced his impending death with the same enthusiasm with which he embraced his life, making a farewell video for his family and friends that was the hit of the New Orleans reunion Nov 8-12, 2021. He narrates the first few minutes, which open with him lying in a casket playing dead in his dress blues, and end in classic Bob Mills fashion. A must-see for all who knew and loved him.
In Dave Barry's Complete Guide to Guys he distinguishes 'men' from 'guys' as follows: "'Men' went to the moon; 'guys' invented mooning." Bob Mills was a both a good man and a good guy, as well as good pilot, good Marine, and one of my best friends for the past 50+ years. We also were close as couples, and they were Uncle Bob and Aunt Twila to our kids. We took many road trips together, talking about anything and everything and playing Password as the miles rolled by.
Bob was extremely competitive. Once we all spent a long weekend at a seaside resort where there were tennis courts. Jean and I had just started playing a little so Bob suggested that the four of us play mixed doubles. When we won the first set he said, "We're going to play again." When we won the second set he said,"We will play again." A thunderstorm blew in during our third set, with rain and severe lightning way too close for comfort. Twila, Jean, and I headed for the car and Bob just stood there in the rain screaming, "You chicken s**ts!" He didn't even like losing to the kids at Connect Four, which he did regularly.
Bob was very athletic and loved to participate in sports. He loved to wrestle Moose Rolfe and Bruce Major, who always kicked his butt, but he loved it anyway and always came back for more. He could walk on his hands, even when drinking, and had mastered Wimpy Wimmler's trick of holding a handstand on top of the bar while draining a drink glass by gripping it with his teeth.
Bob was proud that he was one of the organizers of the first HMM-265 reunion in Pensacola in 1988 and had attended every reunion since then. Here are a few reunion pictures selected from this site's galleries. Bob and Twila were always there.
San Diego Reunion 2012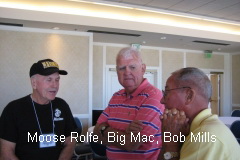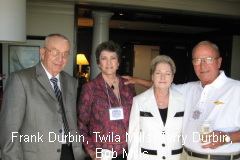 Charleston Reunion 2013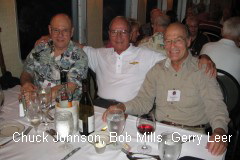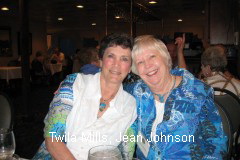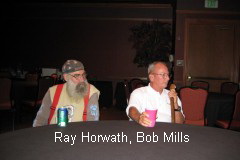 Phrog Retirement 2018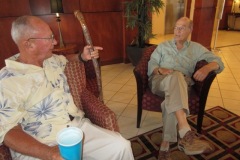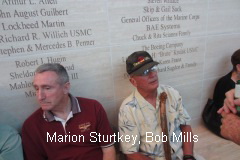 I miss Bob and will for as long as I live. Semper Fi, my friend.
Related Images: