I recently had the honor to work a few volunteer shifts at The Wall That Heals (TWTF) when it stopped for a few days near my home. It is a traveling, three quarters scale replica of the Vietnam Veterans Memorial (The Wall) in Washington, DC.
My duties were to escort people to and along The Wall, explain the design, help them find specific names, and assist in doing a rubbing of the name(s) if asked. During slack times I was able to find the names of 31 veterans of HMM-265. All of it was a very moving experience. It is well worth a visit, even if you have seen the real thing in DC. [See note at end of post]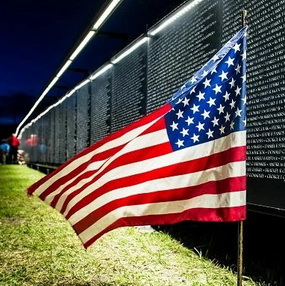 The traveling Wall is sponsored by the Vietnam Veterans Memorial Fund (VVMF), the same fund that built The Wall. One of the things I learned was that they have an "In Memory" program that allows anyone to propose the name of a Vietnam veteran who, though not KIA, later died of a Vietnam-related cause. According to the website, "VVMF's In Memory program honors Vietnam veterans whose lives were cut short as a result of their service in Vietnam, but are not eligible for inscription on The Wall under Department of Defense guidelines. Examples of causes of death that fit the criteria for inclusion in the program include: exposure to Agent Orange, PTSD/suicide, cancer, diabetes, and heart attack."
The home page for the fund is https://www.vvmf.org for general information and donations, the page for the memory program is https://www.vvmf.org/in-memory-program, and the application form to enroll a friend or loved one is at https://act.vvmf.org/page/s/2020-in-memory-application. The names entered in this program are not placed on the Wall, which is reserved for those who were actually killed in action. Rather, they are entered into an online database that anyone can search at https://www.vvmf.org. It accepts short bios, pictures, comments, etc.
Do you know the family of a Vietnam veteran who has passed away due to his or her service in Vietnam? Consider sending them this information and encouraging them to investigate placing their loved one's name in the program. I searched a few names and found that Gerald Dooley is enrolled.
Semper Fi, John Long
---
POSTSCRIPT: Summary of Webmaster email exchange to clarify eligibility for In Memory program
INQUIRY: I am trying to put together some information on the VVMF's In Memory program for our members from the Vietnam era. What if the death certificate's cause of death does not specifically mention exposure to Agent Orange, PTSD/suicide, cancer, diabetes, or heart attack? Would it be sufficient to document that the veteran had been receiving full or partial disability from the VA for one of those conditions?
REPLY: Thank you for reaching out. With our In Memory program we try to be more inclusive with honoring our Vietnam veterans. For this reason as long as the DD214 states the veteran served in Vietnam the death certificate does not have to specifically state Agent Orange exposure, PTSD, etc.
Thank you again for helping honor our veterans and please let me know if you have any additional questions.
Best – Julianna
Julianna Blaylock | Outreach Manager
Vietnam Veterans Memorial Fund
---
Note: The traveling wall was created and is supported by the Vetnam Veterans Memorial Foundation. Their website is well worth a look, and always has the tour schedule for the current year.